Data Entry Projects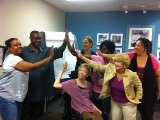 Call us at
215.525.0444
for more information.
Send Us Your Data Entry Projects!
With the fast pace of business in today's world, data management can sometimes prove to be a tedious and costly function.  One of the services that The Academy offers is the opportunity for employers to have any and all data-entry projects completed by students enrolled in the program.  This service is free of charge as it provides students with the chance to utilize their skills in a live business scenario.
These projects will be distributed to students of The Academy who are specifically trained in the field of data entry, and who are working toward clerical and administrative positions.  As such, students are trained in creation of spreadsheets using Excel, Word, and a number of other information management titles.
By sending us your data entry projects, you are assured a quality product with an efficient turn-around time; and in addition to this, you also provide students with valuable experience as they grow their competitive efforts.  Employers are encouraged to send any projects relating to contact management, activity logs, inventory lists, etc.
For more information, please contact us at 267.765.1507.
---
FACEBOOK

---