Send
Call us at
215.525.0444
for more information.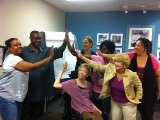 I might want to send a consumer to The Academy because:
We offer individualized courses based on each consumers specific goals
We encourage consumer choice and support personal goals as well as vocational desires
We have an 8:1 student to instructor ratio
We provide a comprehensive array of the latest assistive technology for students with specific access needs
 We have many opportunities for hands-on volunteer and stipend positions that occur within the The Sierra Group Academy complex
We offer a large community network for potential vocational placement for students
 We present a professional environment that mirrors a live business atmosphere
We understand the specific needs of both our students and the competitive marketplace
We provide challenging and vocationally relevant assignments for students both in and out of the classroom setting
We supply each student with a clear set of expectations so that each individual has a lucid understanding of what is required for academic and vocational success
We are passionate about what we do!!!!
The first steps towards attending the Academy include attending a Taste of Technology.  You and the person you refer are both welcome to attend this open house to see first-hand what the Academy has to offer.
If you would like to send someone to the academy, please check out the courses available and download or view the application.
For more information on applying please call us at (267) 765-1507
---
FACEBOOK

---