Looking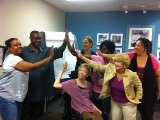 Call us at
215.525.0444
for more information.

Are You Looking for an Intern or an Employee?
There are many ways that an employer can profit from hiring an employee with a disability. When a company makes the decision to hire a person with a disability, they not only secure a reliable worker, but they may also be entitled to a number of valuable financial incentives as well.
The Academy is an excellent resource for employers who are looking for capable, market-ready competitors for employment, stipend, and volunteer positions. Students of The Academy are trained and prepared to serve in positions ranging from short term data- entry projects to full-time administrators.
Hiring by its very nature always involves an element of risk – but we at The Academy have a built-in support structure designed to mitigate this inherent danger. Employers who hire a student from our program are automatically granted access to any supports necessary to ensure a positive employment experience. Employers will have the ability to call on Academy staff, The Sierra Group (engineers and consultants), and all wrap-around services associated with Liberty Resources. These supports are in place to advise and assist employers in receiving full financial entitlements, as well as ensuring a smooth vocational transition for both employee and employer.
This is an opportunity for employers to gain a committed worker, while at the same time providing a qualified person with a disability with gainful employment.
For more information regarding The Sierra Group, please visit www.thesierragroup.com.
For more information regarding wrap-around services, please visit www.libertyresources.org.
For a complete list of incentives available by state, please visit www.employmentincentives.com.
---
FACEBOOK

---