Assistive Technology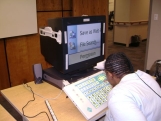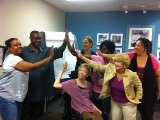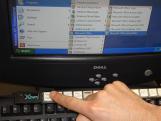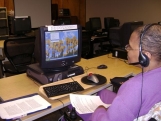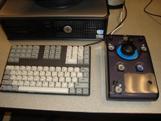 Call us at
215.525.0444
for more information.
Leveraging Assistive Technology
Accessibility is a factor in both academic and workplace success. At the Academy, all classrooms have wide doors, contain height-adjustable desks, and are outfitted with specialized hardware and software. Our wide hallways are fitted with handrails, and restrooms are easily accessible. An on-site personal attendant as available to assist students as needed.
Our 40 Dell® computers use Microsoft Windows XP® with Microsoft Office® applications. Additionally, students can access the Internet for email, research, placement leads, and general "surfing" via our high-speed connection. May 2011 Update: We've added 4 new Windows 7 machines with Office 2010 and hope that more will be on the way!
For best computer access, the Academy provides several types of mice and keyboards, as well as ergonomic devices and appropriate task chairs. Accessibility is further enhanced by various software packages*, including:
SoothSayer™ and Co:Writer® for word prediction.
Ace Reader® for reading speed and comprehension.
Mavis Beacon® for typing speed and accuracy.
Dragon NaturallySpeaking® for computer use via speech recognition.
ZoomText® for screen magnification and speech output.
Numerous other devices and software packages are available on-site or can be borrowed through PIAT's (Pennsylvania's Initiative on Assistive Technology) lending library.
*SoothSayer is a trademark of Applied Human Factors. Co:Writer, Ace Reader, Mavis Beacon, Dragon NaturallySpeaking, and ZoomText are registered trademarks of Don Johnston, StepWare, Broderbund, Nuance, and AI Squared, respectively.
---
FACEBOOK

---